03.July.2018
ONS - Offshore Northern Seas
Welcome to our 50 meter long ship in Stavanger harbor during ONS


Well, not a 50-meter long luxurious yacht but still a pretty big boat! For this year's ONS Blue Logic have together with other companies in the OMNI Group rented the ferry Rygerfjell. Rygerfjell is a RoRo Ship built in 1978 acting like a reserve ferry in the region.
The car deck on Rygerfjell gives us excellent opportunities for setting up different equipment. We are bringing our Inductive Connectors called "Subsea USB", Electric Torque Tools, both our Hot Stab and Valve Stab -programs and other cool equipment. All set up for demonstration! There will also be a small ROV present on the ship that will be lowered into sea and piloted from deck.

The ship opens at 13:00 each day during the exhibition and lunch is served from 13:00 until 14:30. There is a limited amount of space aboard so the "first come first served" principle will be in play. Dinner is served from 17:30 until 20:00 when the live music starts. Kjell Undheim known from the band "Ingenting" will together with Tine Steen play Monday and Tuesday from 20:00 until 23:00.
Rygerfjell will be docked right next to Hall Toll and should be impossible to miss, but just in case we have prepared a map shown below.

We are looking forward to seeing you on board for both serious and less serious conversations! If you have not recieved an invitation let your contact at Blue Logic or one of the other companies know!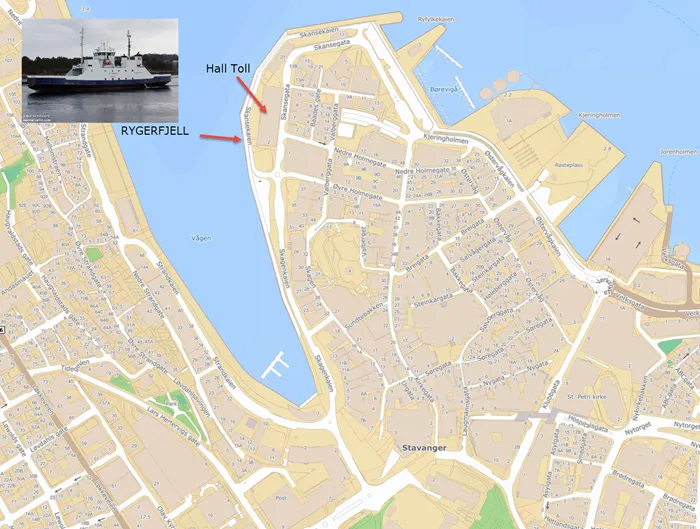 PICTURES FROM THE 2018 EVENT